Staff
Taylor McLean
Youth Director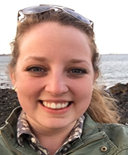 Taylor was born and raised in Newport News, Virginia; the middle of three children raised by a single mother. She graduated from Elon University in North Carolina in 2014 with a bachelor's degree in Religious Studies. After graduation, she spent a year serving in the Young Adult Volunteer (YAV) Program of the Presbyterian Church (U.S.A.) in Boston concentrating on Food Justice. She is now working on a Masters in Divinity and a Masters in Social Work through the dual-degree program at Austin Presbyterian Theological Seminary and UT. She is a dog person and an avid coffee drinker.
Jordan Burchill
Contemporary Worship Leader

Jordan was born and raised in Fort Worth, Texas. He grew up in a very musical family and started leading worship in his local church youth group at the age of 14. After high school he went on to attend and graduate from the world renowned music school University of North Texas with a Bachelor of Music in Jazz Guitar. When college was through he decided to make the move to Austin, Texas to continue pursing his career in music and leading worship. Jordan loves writing songs, tacos, and leading worship every Sunday at North West Hills UMC.
Taylor N. Kroff
Director of Music Ministries


Minho Yoon
Accompanist

Minho Yoon plays the piano with worship band and choir at Northwest Hills United Methodist Church. Minho is a composer and pianist. He is currently pursuing Doctoral degree in music composition and teaching music theory at the University of Texas at Austin. His original works for solo instrument, vocal, chamber and arrangement pieces are performed several times in South Korea and the United States.
Jackie Valdez
Director of My Friend's House



jvaldez@nwhillsumc.org

Zel Heaney
Office Manager



office@nwhillsumc.org


Pamala Detrich

Business Manager

Orlando Rodriguez
Facilities/Maintenance
Ronnie Hawkins
Facilities/Maintenance