Worship
Let us consider how we may spur one another on toward love and good deeds, not giving up meeting together, as some are in the habit of doing.
– Hebrews 10:24-25a
Contemporary Worship
At NWHills UMC, we understand that not everyone is able to connect with God in the same way. Different times, settings and music can influence our ability to worship, so each Sunday we offer two different times and styles of worship.
The Contemporary worship at 9:00 a.m. follows a less structured format, which includes more congregational singing. The congregation is led in singing by a worship team of vocalists and instrumentalists, including guitars, drums, and keyboard. The music consists of Christian praise and worship selections as well as hymns set to contemporary arrangements.
Holy Communion is offered each week in this time of worship.
Traditional Worship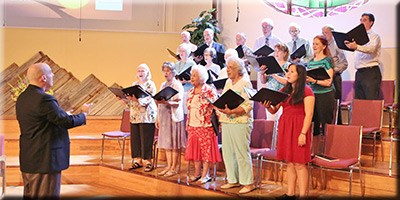 The 11:00 a.m. worship follows a more traditional format and includes many of the liturgical elements generally associated with this worship style. Congregational singing of hymns is accompanied by the organ and piano. The Sanctuary Choir typically provides both an introit and an anthem. In this time of worship, Holy Communion is offered on the first Sunday of each month. Both times of worship periodically include musical offerings, which involve a variety of instrumentalists and vocalists.